Understanding how and when to use cold-formed steel is an important design skill.
This program is designed to help educate architects in the use of cold-formed steel framing.
CES (Continuing Education System). 1.5 Hour Courses Available.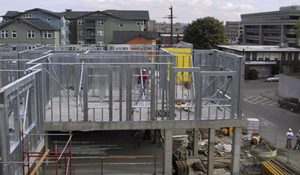 MASFA is a registered provider with the American Institute of Architects Continuing Education System. Credit earned on completion of the program will be reported to CES records for AIA Members. Certificates of completion for non-AIA members are available upon request. Contact us to schedule a presentation.
Program Agenda
Identify practical uses for cold-formed steel (floors, walls, roofs, whole buildings).
Identify the materials that cold-formed steel can efficiently replace (from a cost perspective).
Provide basic design guidelines for what needs to appear on your construction documents.
Provide resources you can use to help your design effort (the Sweets of cold-formed steel).
Discuss "lessons learned."
Answer your questions.
Although our organization covers the Mid-Atlantic region, we have affiliates all over the country. If you are interested in a cold-formed steel presentation, we can be just about anywhere you are.
MASFA holds regular dinner events with different speakers and presentations. Some may be more technical than others. These events are open to anyone, architect, engineer, builder, contractor or just anyone who has an interest in and wishes to learn more about cold-formed steel framing. Keep your eyes on information about upcoming events.
To arrange a seminar, feel free to contact:
Jeff Klaiman
Phone: (703) 691-4040
E-mail: [email protected]